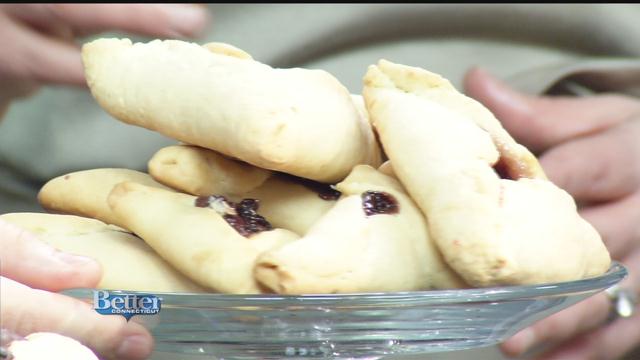 There are a number of holidays right around the corner and one of them is the Jewish holiday of Purim. Here to show us how to make one of the delicious foods that's part of the Purim tradition is Yehudis Wolvovsky of the Chabad Jewish Center in Glastonbury.
Hamantashen Recipe
1 cup oil
4 eggs
1 1/4 cups sugar
1 tablespoon baking powder
1 teaspoon vanilla extract
5 cups flour
1/2 teaspoon salt
Mix eggs, oil and sugar well. Add the rest of ingredients and mix well.
Roll out 1/8 inch thick. Cut into circles 3 inches of diameter. Fill with small teaspoonfuls of filling. Pinch into 3 corners.
Bake at 350 for 20 minutes.