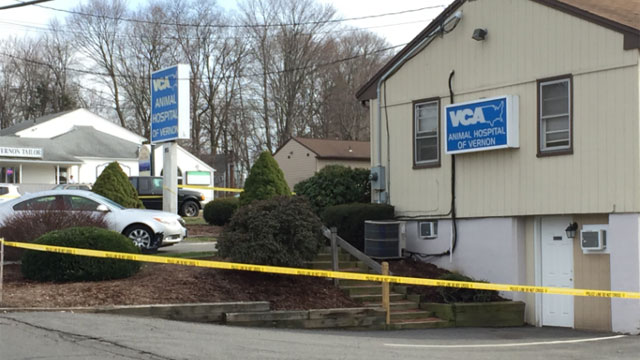 Police are investigating an armed robbery at Animal Wellness Center of Vernon. (WFSB)
Police captured the man believed to be responsible for an armed robbery at animal hospital in Vernon on Wednesday afternoon.
The armed robbery was reported at Animal Wellness Center of Vernon on Talcottville Road around 2 p.m.
An unidentified man, who was armed with a gun, entered the animal hospital. The suspect demanded something from employees, however police would not comment on what he wanted.
The suspect fled down Pleasant Street after coming in contact with the hospital staff. However, police said he was captured a short time later after search along Hockanum River about a half mile from the crime scene.
A next door neighbor, working out side on his car, told Eyewitness News he noticed an unfamiliar man walking up the side street known as Pleasant View Drive.
"He just walked up the street right by me. He didn't make eye contact. He just kept walking. He had a black hood on," Eric Saunder, of Vernon said. "I then drove up to the auto parts store to get a part they had for me. When I got back, police cars were all over the place. I think he walked into the hospital and got out quickly and went toward the river is what I heard."
Police took the suspect to the Vernon Police Station. There is no word on charges.
The hospital said all of its employees were fine and they were able to continue taking care of customers through the end of business day.
Copyright 2016 WFSB (Meredith Corporation). All rights reserved.