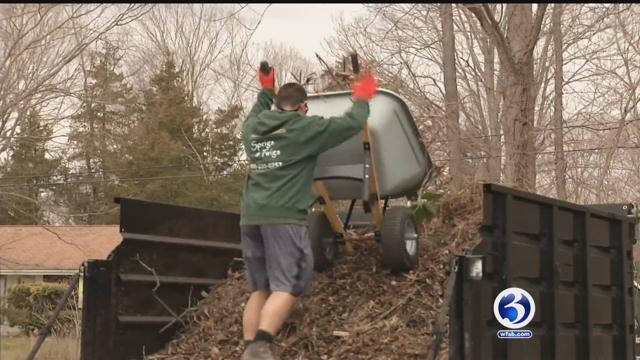 Landscapers are taking a break from spring to prepare for snow. (WFSB)
PRESTON, CT (WFSB) -
Spring is literally around the corner and so is the chance for plowable snowfall.
Landscape contractors have already started their spring clean-up jobs two weeks early, and now they have to shift gears and reload their snow fighting equipment.
"Once the temperatures get above 50 degrees, the phones start ringing off the hook and we're going," said Bill Lillie, who is a landscape contractor and owns Sprigs and Twigs Landscaping.
He said his company has to stop their raking and cleanup to prepare the snow gear again for Sunday.
"We're kind of multi-tasking for the moment. There is the spring home show at the Connecticut College, setting up for that and in the meantime putting the plows on and getting ready for the possibility of going after the snow," Lillie said.
How does Lillie describe the winter season from a business standpoint? "We had two to three storms and that was good but the warm weather actually helped us get a head start on springtime. Get a lot of projects done. We're much better prepared than we've been before for the spring," Lillie said.
Copyright 2016 WFSB (Meredith Corporation). All rights reserved.