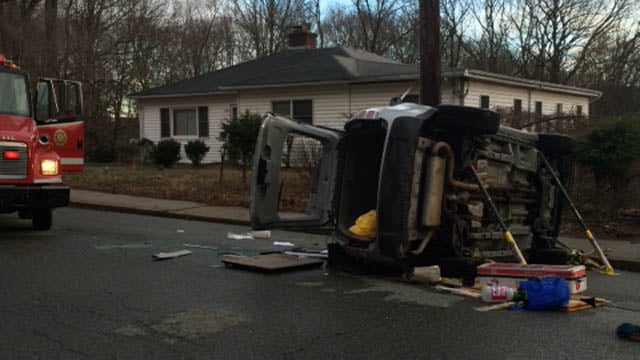 Willimantic police investigate crash Thursday night. (iwitness)
WILLIMANTIC, CT (WFSB) -
One of the drivers involved in a Willimantic crash on Thursday night is a student at Eastern Connecticut State University.
She was not seriously hurt, according to campus police, but on Friday Willimantic detectives continued their investigation and hope other eyewitnesses can shed new light on the case.
Broken glass and debris was still visible on Friday at the scene of the crash on Prospect Street in Willimantic.
On Thursday, Gabriel Baig explained to investigators what he saw, as an SUV hit another car parked along Prospect Street, then turned onto its side, sliding across the road into a utility pole.
The student was driving a sedan that was pulling out from a parking spot and was hit by the SUV.
Thankfully, students who live in the neighborhood and go to Eastern Connecticut State University one block away weren't on the sidewalk.
Willimantic police are handling the investigation and are looking at a number of factors surrounding the crash, including alcohol, drugs and speed conditions.
Copyright 2016 WFSB (Meredith Corporation). All rights reserved.