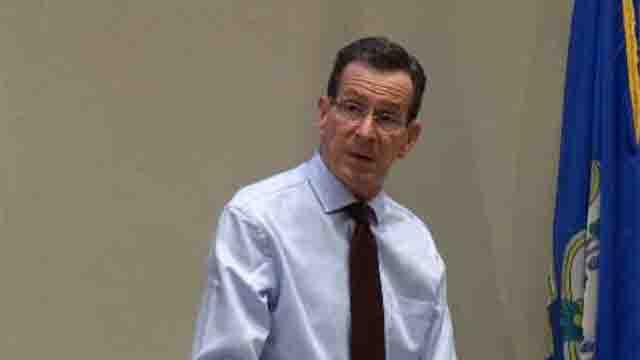 The administration for Gov. Dannel Malloy said they were "alarmed" by unions' stance. (WFSB file photo)
HARTFORD, CT (AP) -
Connecticut Gov. Dannel P. Malloy's administration is "alarmed, if not completely stunned" by state employee union leaders' reasons for refusing to discuss possible changes to pensions and benefits.
The chief negotiator for the State Employee Bargaining Agent Coalition last week told Malloy's labor negotiator that coalition leaders don't have the authority from their "elected rank-and-file leadership" to discuss potential health and pension benefits concessions.
Lisa Grasso Egan, the undersecretary for labor relations, sent a letter to SEBAC on March 14 asking the organization to come to the table, given the state's continued deficit problems. The coalition negotiates pension and benefits for all 15 state employee unions.
Malloy spokesman Devon Puglia said it was a "ridiculous argument" to say SEBAC isn't empowered to negotiate on behalf of its members.
Senate Minority Leader Len Fasano (R-North Haven) and Senate Minority Leader Pro Tempore Kevin Witkos (R-Canton) released a statement on the "state unions' refusal to accept the governor's invitation to reopen pension and health benefits to help mitigate significant future deficits and avoid future layoffs."
"Republicans are supportive of the governor calling the unions to the table. We wish it happened sooner, but we applaud the effort now. If union leaders truly represent the best interests of their workers, then they should be running to the table to have a serious discussion with the governor before he's forced to lay off thousands. The unions know they have full protection from Democrat leaders and therefore are untouchable. But that is unrealistic when we're facing billion dollar deficits in future years. If union leaders don't come to the table now, they and the Democrats who supported keeping them out of the negotiation room are responsible for layoffs that come their way. If Democrats feel differently, I hope that they will call on the unions to come to the table now," the statement read.
Copyright 2016 The Associated Press. All rights reserved. This material may not be published, broadcast, rewritten or redistributed.