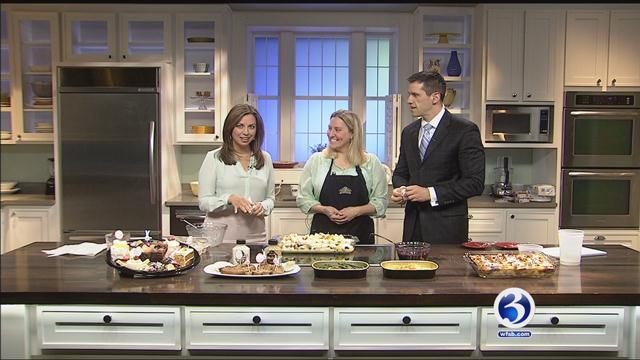 Kim and Mike cook Blueberry-Stuffed French Toast with Molly Devanney from Highland Park Market
ROCKY HILL, CT (WFSB) -
Here is the Blueberry-Stuffed French Toast that was made by Highland Park Market on Saturday morning.
Ingredients for French Toast?:
12 - Slices of white bread, cut into 1- inch cubes
2 – 8 oz packages of 8 oz cold cream cheese, cut into 1 – inch cubes
1 – cup of fresh blueberries, rinsed
12 – Large Eggs
½ Cup of Maple Syrup
2 – Cups of Whole Milk
Directions for French Toast?:
Spray a 13" x 9" glass baking dish with cooking spray.
Take half of the bread cubes and spread evenly in dish and scatter the cream cheese over the bread.
Sprinkle the blueberries over the cream cheese.
Arrange the remaining bread cubes over the blueberries.
In a large bowl whisk together the eggs, syrup and milk.
Evenly distribute the egg mixture over the dish and chill covered with foil overnight.
Preheat the oven to 350 degrees.
Keep the foil on and bake for 30 minutes.
Remove the foil and bake for additional 30 minutes or until puffed and golden.
Top with blueberry sauce or maple syrup.
Ingredients for Blueberry Sauce:
1 Cup of Sugar
2 Tablespoons of Cornstarch
1 Cup of Water
1 Cup of fresh blueberries, rinsed
Directions for Blueberry Sauce:
In a saucepan stir together the sugar, cornstarch and water.
Cook the mixture over moderately high heat, stir occasionally, for 5 minutes (until it is thickened).
Stir in blueberries and simmer for approximately 10 minutes and the blueberries burst.
Copyright 2016 WFSB (Meredith Corporation). All rights reserved.