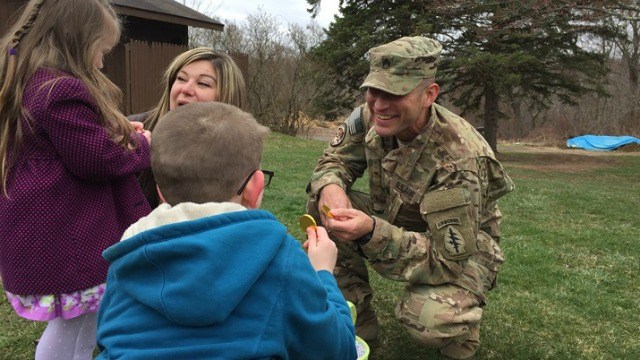 Sgt. First Class Michael Clark surprises his kids during Easter egg hunt. (WFSB)
BOLTON, CT (WFSB) -
A young family was reunited during a traditional an egg hunt in Bolton thanks to the efforts of the Easter bunny.
Herrick Park was loaded around noon time with thousands of Easter eggs.
Dozens of anxious hunters lined up for an annual tradition. But, the event had surprise ending for two children Rachel and Michael Clark.
While the children were busy hopping all over the field on Saturday afternoon. Sgt. First Class Michael Clark waited in the wings about to surprise his little bunnies after returning from a 10-month tour in Afghanistan.
"They have no idea I'm here. I got in last night, late last night we basically decided to surprise them," Michael Clark said. "They knew daddy was coming home sometime at the end of the month whatever. They had no idea."
While all the kids swept the field clean, Michael Clark snuck up behind his kids and shouted their names. As they ran over to their father, the crowd applauded.
"I've been waiting for this day for 10 months, so it's been amazing," Rachel Clark said.
"They are everything to me, my family" Michael Clark said. "So yea…It was great!"
Copyright 2016 WFSB (Meredith Corporation). All rights reserved.