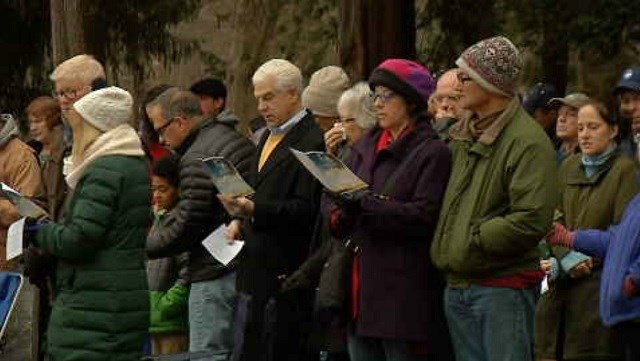 Many people attended sunrise services on Easter morning. (WFSB)
HARTFORD, CT (WFSB) -
Many people woke up early to attend sunrise services on Easter Sunday.
Members of the Asylum Hill Congregational Church in Hartford gathered at Overlook Park at 6:30 a.m. for the sunrise service.
Organizers said the services usually draws about 150 parishioners.
While the weather is always a little touch-and-go, Pastor Donna Manocchio said it is the perfect way to celebrate Easter.
"It's one of those traditions that people forget when it actually started, but for many, many years, generations probably, Asylum Hill Church and other churches in Hartford have come together to greet Easter morning," Manocchio said.
Other sunrise services:
First Baptist Church at Riverside Cemetery in Essex at 6;30 a.m.
United Congregational Church at the Lodge/Pond in Crandall Park at 6 a.m.
First Congregational Church, West Wharf Beach in Madison at 6:30 a.m.
United Methodist Church at the memorial garden, Barkhamsted at 7a.m., followed by an Easter morning breakfast.
Copyright 2016 WFSB (Meredith Corporation). All rights reserved.