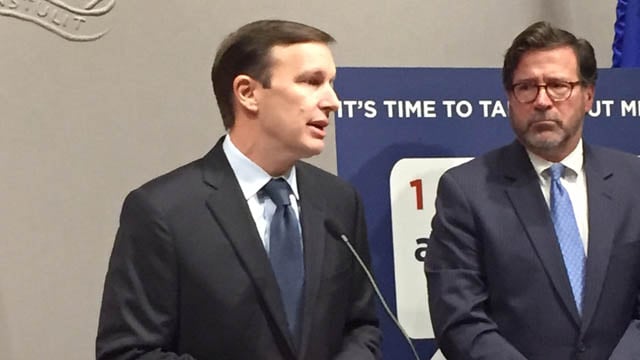 Sen. Chris Murphy's staff shelters in place after report of shooting near Capitol Hill. (WFSB photo)
WASHINGTON (WFSB) -
Congress and the White House are on lockdown after a shooting near Capitol Hill in Washington, DC.
The shooting was reported at the Capitol Visitors Center. The Associated Press is reporting the incident was contained to the visitor center and that a shooter is in custody.
The Capitol Police issued an order for people in the buildings to shelter in place.
U.S. Sen. Chris Murphy said his staff was accounted for and they were sheltering in place as of Monday afternoon.
U.S. Senator Richard Blumenthal issued a statement on Monday saying "I am incredibly thankful to the U.S. Capitol Police and first responders for their bravery and immediate action today and every day. Their quick response almost certainly prevented additional injury and perhaps loss of life. My DC staff and interns are all safe and accounted for. My thoughts and prayers for a speedy recovery are with the bystander injured today."
Congressman John Larson said in a statement "Today we were reminded of the threats law enforcement officers face each day. I am supremely thankful that my staff and colleagues were kept safe by the quick action of the Capitol Police, and I hope for a speedy recovery for the bystander injured today."
Copyright 2016 WFSB (Meredith Corporation). All rights reserved.