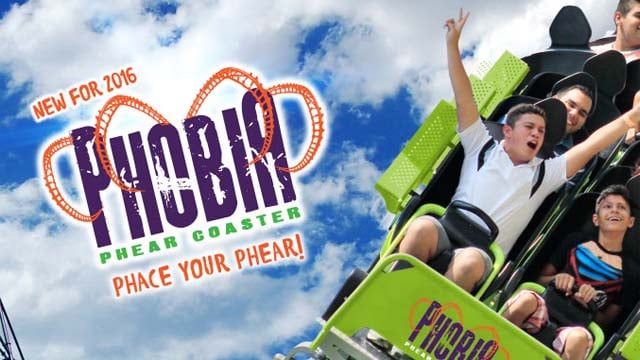 Lake Compounce said its 'Phobia Phear Coaster' will launch on May 7. (lakecompounce.com photo)
BRISTOL, CT (WFSB) -
An amusement park in Bristol wants to award first rides on its new roller coaster to 12 fans with "major phears."
Lake Compounce said starting on Wednesday, the theme park invited guests to share their deepest, darkest phobias with park officials for a chance to ride its new "Phobia Phear Coaster."
It said the 12 terrified riders will be chosen to experience the roller coaster on the park's opening day, which is May 7 at 11 a.m.
The guests and their fears will be featured on Lake Compounce's social media pages starting on May 1.
The park said the public is encouraged to attend the event and then ride the coaster.
As for the ride itself, Lake Compounce said the Phobia Phear Coaster features an inversion at 150 feet in the air. It said that's one of the highest in existence in the U.S. Speeds of 65 mph will also be felt on launches and twists.
Premier Rides built the roller coaster.
For more on Lake Compounce's contest, check out its website here.
Copyright 2016 WFSB (Meredith Corporation). All rights reserved.