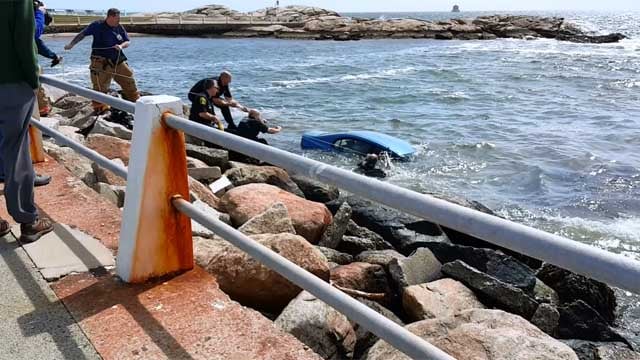 Good Samaritans, police rescued a woman from her car that was sinking into water on Thursday in Groton. (iwitness)
GROTON, CT (WFSB) -
A woman was rescued on Thursday after her car went into the water at Eastern Point Beach in Groton.
The dramatic video, sent to Eyewitness News by Candice Chambers, shows the car in the water, and a man trying to rescue her from the vehicle.
He smashes the windshield to give the woman a way to escape, but she wasn't able to get out at that moment. The car starts to fill with water, making it more difficult to get the woman out.
Emergency crews arrived and ultimately the woman was pulled to safety. She was reportedly conscious at the time she was rescued.
It is unclear at this time how the car ended up in the water.
Copyright 2016 WFSB (Meredith Corporation). All rights reserved.