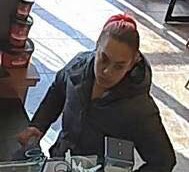 Suspect Uses Counterfeit Bill
HARTFORD, CT (AP) -
The Waterford Police are asking for the public's help in identifying a woman who used a counterfeit $100 bill on March 8.
Surveillance footage from the Cold Stone Creamery on Hartford Turnpike in Waterford shows a woman police described as "Hispanic with red dyed brown hair and brown eyes wearing a black jacket, black pants, and pink shoes" and "approximately 5 feet 5 inches tall, between the ages of 25 to 35 years old."
The suspect purchased an ice cream with a single $100 bill. Store management and police have confirmed the bill as a fake.
Police have not associated a vehicle to the suspect.
Police are urging citizens to contact Officer Bonkowski at 860-442-9451 x 2244 with any information on the missing suspect.
Copyright 2016 WFSB (Meredith Corporation). All rights reserved.