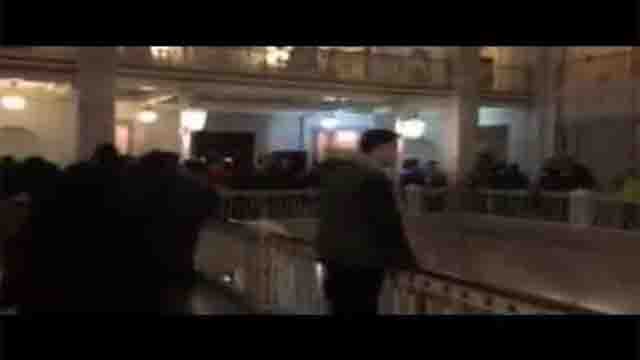 Hundreds of people protested at the City Council meeting on Monday. (Janee Woods)
HARTFORD, CT (WFSB) -
It was a wild scene Monday night at Hartford City Hall, as hundreds of people protested at the City Council meeting.
Council members were discussing a measure proposed by Mayor Luke Bronin that would create a state panel with final say over new union contracts.
However, protesters said there are other ways to solve the city's financial crisis.
"We find a way we figure it out, collaboration and conversation with citizens, unions, local leaders, corporations, we figure it out. That's what we elected them to do," said Bishop John Selders, of Moral Monday CT. "When you can't do that and you want to go to a state board that just sounds fishy."
Hartford police said they were called in to help control the crowd.
Copyright 2016 WFSB (Meredith Corporation). All rights reserved.