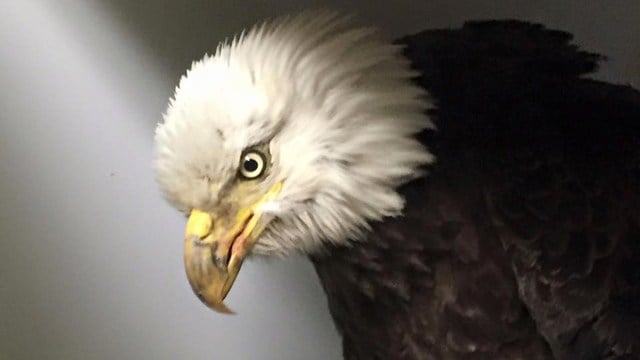 (Audubon Sharon photo)
SHARON, CT (WFSB) -
Environmental rescue officials said a bald eagle rescued in Thomaston last week likely ate something toxic.
The 7-year-old bird was found face down on the ground by the Thomaston Dam on April 1.
Environmental conservation officers said they brought it to Audubon Sharon.
Audubon Sharon employees said the bird is suspected to have ingested food that led to poisoning or toxicity. They were awaiting the results of blood work that will identify exactly what chemicals were found in its system.
When it was first brought to the facility, it didn't have enough strength ti lift its head or open its eyes.
Just two days after arriving, employees said it was alert, perching and being fed by hand.
They said with intensive fluid therapy, vitamin supplements and close observation, the eagle has been making progress.
For more information about the Audubon Society, head to its website here.
Copyright 2016 WFSB (Meredith Corporation). All rights reserved.