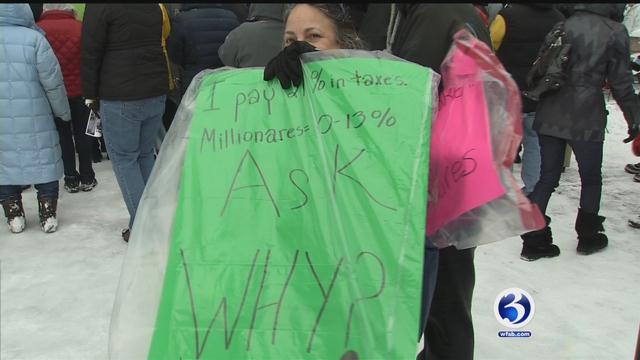 Nearly 100 union and private sector workers were rallying against budget cuts and layoffs. (WFSB)
HARTFORD, CT (WFSB) -
People, who got stuck in the elevator, were part of a protest on Monday in the snow outside of the Legislative Office building in Hartford.
Nearly 100 union and private sector workers were rallying against budget cuts and layoffs.
"The main complaint is that Governor Malloy is tying his owns hands and saying we shouldn't look for new revenue to fix the budget deficit," protester Mallory Buckingham said.
Protesters are asking Malloy to take taxes from the wealthy and millionaires in the state to fix the budget deficit.
Copyright 2016 WFSB (Meredith Corporation). All rights reserved.