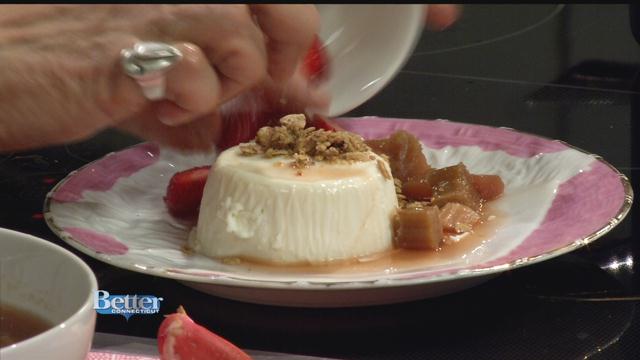 The folks from the Good News Café are showing us how to make a delicious yogurt dessert called Panna Cotta. The Good News Café is located at 694 Main St S. in Woodbury. Click here to see more.
Yogurt Panna Cotta
1 cup of milk

4 sheets of gelatin ~ 1 tablespoon

2 cups heavy cream

1/2 cup sugar

1 tsp. vanilla

1 tsp. lemon zest
Soften gelatin in milk (about 5 min.)
Boil heavy cream, sugar, vanilla extract, lemon zest
Add softened gelatin & milk
stir until gelatin completely dissolves (about 1 min.)
Remove from heat
Whisk in yogurt
Pour into mold or dessert dish of choice
Refrigerate until set (about 4 hours)
Serve with Rhubarb or Fruit of Choice
Rhubarb for Panna Cotta
4 cups sliced Rhubarb Fresh or Frozen

1/2 Cup Honey

1 Cup Water

2 Tbsp Raspberry Vinegar
Bring Honey, water and vinegar to a boil.
Stir in Rhubarb and just bring to a boil.
Cool & serve with Cold Panna Cotta