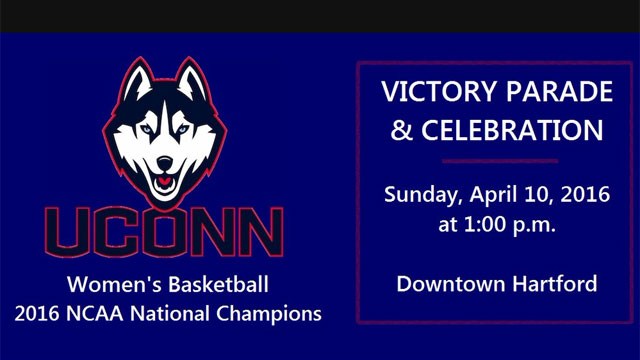 A victory parade and rally will be held for University of Connecticut Women's Basketball Team on Sunday. (@GovMalloyOffice)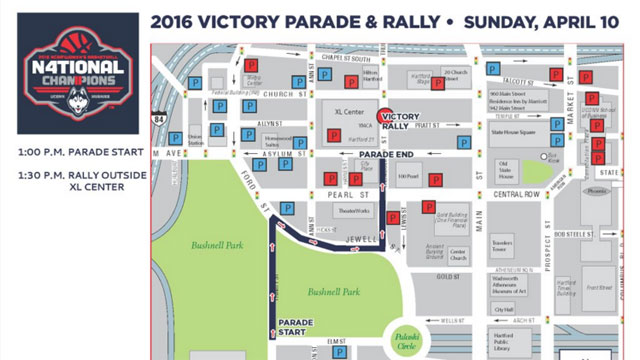 Here's a map of Sunday afternoon's UConn Huskies victory parade route. (@GovMalloyOffice)
HARTFORD, CT (WFSB) -
The University of Connecticut Women's Basketball Team will be honored with a victory parade and rally in Hartford this weekend.
UConn fans will get their chance to celebrate the Huskies after they won fourth straight title and 11th overall. UConn defeated Syracuse 82-51 in the NCAA national championship game on Tuesday night.
The parade will start at 1 p.m. on Sunday at the State Capitol building. Following the parade, there will be a victory rally outside of the XL Center at about 1:30 p.m.
Governor Dannel P. Malloy called the accomplishments by UConn "simply remarkable."
"Coach Geno Auriemma and the entire UConn women's basketball team have once again made our state extraordinarily proud. On Sunday, we plan to celebrate their success by honoring them with another event to remember," Malloy said.
Malloy announced on Thursday that the victory parade and rally will be financed by private donations as well as business sponsorships and "no state or city funding is used."
The Hartford Business Improvement District in association with the City of Hartford and the State of Connecticut along with other agenceies will produce the weekend events.
The parade route is as follows:
Begin at the State Capitol building on the corner of Trinity Street and Elm Street
Proceeds north on Trinity Street through the Soldiers & Sailors Memorial Arch,
Turns right (east) onto Jewell Street
Turns left (north) onto Trumbull Street
Ends at the intersection of Asylum Street and Trumbull Street, just steps away from where the rally will be held in front of the main entrance of the XL Center.
Copyright 2016 WFSB (Meredith Corporation). All rights reserved.