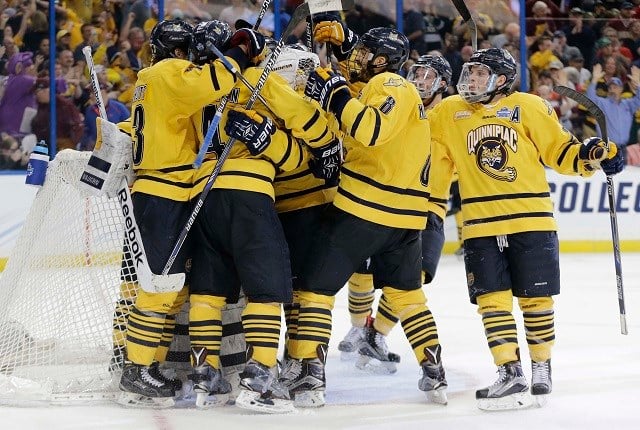 The Quinnipiac Bobcats beat Boston College Thursday night, 3-2 (AP Images)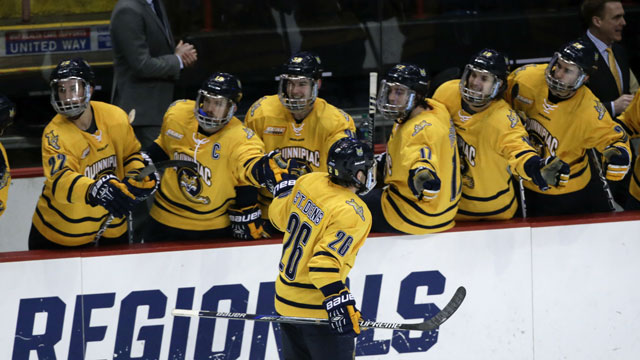 Quinnipiac's Travis St. Denis (26) celebrates his goal against UMass Lowell during the third period of the NCAA men's East Regional championship hockey game on Sunday, March 27, 2016, in Albany, N.Y. Qunnipiac won 4-1. (AP Photo/Mike Groll)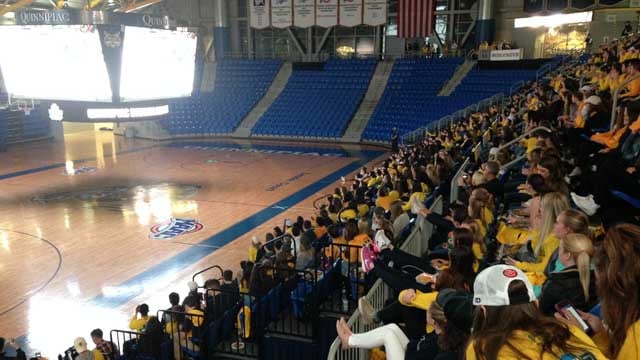 (WFSB)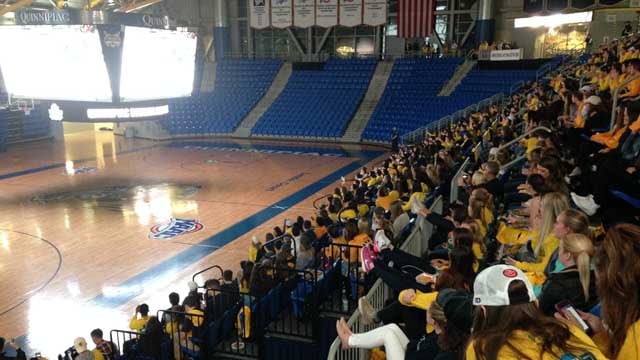 Students gather for the watch party at Quinnipiac on Thursday. (WFSB)
HAMDEN, CT(WFSB/AP) -
The Quinnipiac University Hockey Team took on Boston College in the Frozen Four on Thursday night, and beat them, 3-2.
The Bobcats were out on the ice early on Thursday morning getting ready for the Eagles
Sam Anas scored the tiebreaking goal, Michael Garteig made 14 saves and Quinnipiac beat Massachusetts-Lowell 4-1 on Sunday night in the NCAA East Regional final to reach the Frozen Four.
Anas gave top-ranked Quinnipiac (31-3-7) a 2-1 lead with 7:49 left in the second period.
Scott Davidson, Landon Smith and Travis St. Denis also scored for Quinnipiac. The Bobcats will face Boston College on April 7 in the national semifinals in Tampa, Florida.
Dylan Link scored for Lowell (25-10-5) in the first period.
On Saturday, Quinnipiac beat RIT 4-0, and Lowell edged Yale 3-2 in overtime.
There is a watch party on the QU campus for Thursday's game.
The Bobcats have the best record in the country, they are 31-3 and 7. Their head coach has been at this for 22 years, with 445 wins. There are 30 players on the team, which has a grade point average near 3.4.
This is the second time the team has been to the Frozen Four. They were there back in 2013 but lost to Yale University.
The coach of Boston College has won five national titles.
Copyright 2016 WFSB (Meredith Corporation). The Associated Press contributed to this report. All rights reserved.