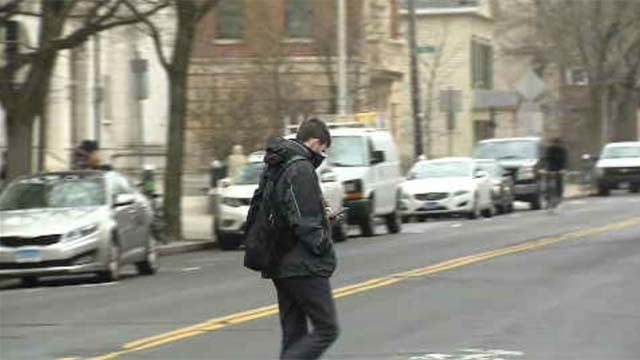 Yale committee takes on 'don't text and walk' pledge (WFSB)
NEW HAVEN, CT (WFSB) -
For many young Americans, texting is the preferred way to communicate, but being fixated on one's cell phone in public is a potential safety hazard.
Yale University's Traffic Safety Committee, along with the Office of Environmental Health and Safety, is trying to get students and others in the Elm City to take the pledge that they won't text while crossing an intersection.
The group got 200 signatures in a few hours on the first day. It is just one of several initiatives the Traffic Safety Committee is using to raise awareness and create safe habits for pedestrians, and to change the behaviors of those burying their heads and texting away.
"We need to be thinking about being safe and paying attention and if you're staring at your phone, you're not doing that," said Kevin Lord, of New Haven.
"I think it's genuinely important to make sure people aren't on the phone while crossing the street, people jay walk a lot and if they're jay walking on their phones they might get hit by a car," said Gena Covlentz, a Yale freshman.
Copyright 2016 WFSB (Meredith Corporation). All rights reserved.