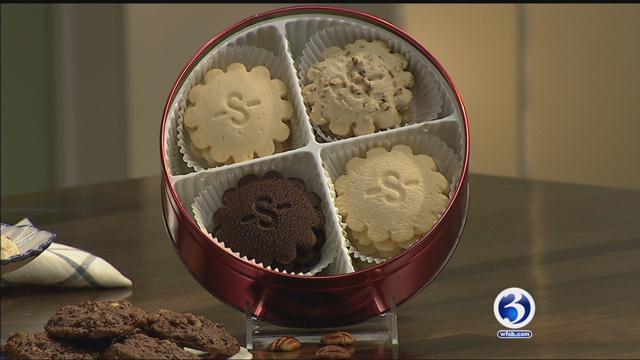 Matthews 1812 House shows us how to make pecan shortbread cookies. (WFSB)
ROCKY HILL, CT (WFSB) -
Here is the recipe for pecan shortbread cookies from Matthews 1812 House:
Makes about 2 dozen cookies
Ingredients:
2 cup flour
½ tsp salt
2 sticks of butter, room temperature
2/3 cup powdered sugar + extra for decoration
1 tsp vanilla
2 tsp water
2/3 cup chopped pecans
pecan halves for decoration
Instructions:
Preheat oven to 325 degrees.
Whisk flour and salt together, set aside.
Cream butter and sugar together until well mixed.
Add vanilla and water , mix until combined.
Add flour mixture- combine well.
Add pecans, mix until the dough comes together. Keep mixing until dough is smooth and not crumbly.
Use a 1" cookie scoop to create level scoops (scrape excess on sides of bowl), or roll dough into 1" balls. Scoops will create a rougher texture that shows off the pecans, rolled cookies will have a smoother top.
Gently push a pecan half onto the top of each ball for decoration, or leave plain if planning to roll in powdered sugar later.
Bake for 20 minutes or until bottom edges are slightly golden.
If you have not topped with a pecan, you can roll the cookies in powdered sugar immediately after taking them out of the oven. Roll warm cookies in sugar, set aside, move to the next cookie. Repeat, rolling each cookie 2-3 times until desired level of coating is achieved. Let cool.
For more information on Matthews 1812 House, click here.
Copyright 2016 WFSB (Meredith Corporation). All rights reserved.