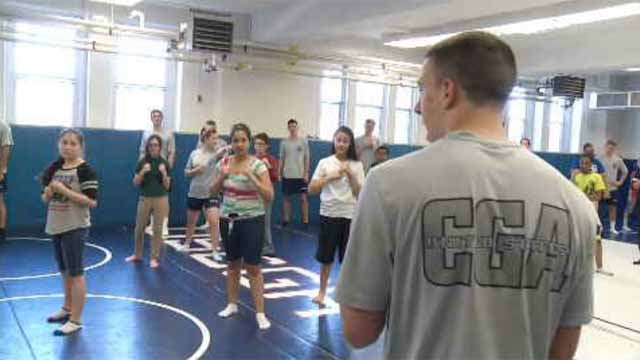 New London students took a trip to the Coast Guard Academy on Friday. (WFSB)
NEW LONDON, CT (WFSB) -
Middle school students from New London's Bennie Dover School had a very exclusive field trip on Friday to the U.S. Coast Guard Academy.
Learning self-defense was just one example of a host of experiences picked up on Friday by the students.
The students who made it to the Academy had already passed a hurdle by being good students with good grades and having good attendances, something the U.S. Coast Guard likes in future recruits.
"It's huge because they didn't know that they could go to a school like this and go for free. So they're really excited about it," said Bennie Dover teacher Jennifer Carter.
"It's a way to give back and let them know about the Coast Guard Academy and also some sports they may not been familiar with," said Jason Southard, director of athletic media.
Any fifth grade student at Bennie Dover who wants to get in on the action next April should have good academic standing, be a good student, and have some leadership skill.
Copyright 2016 WFSB (Meredith Corporation). All rights reserved.