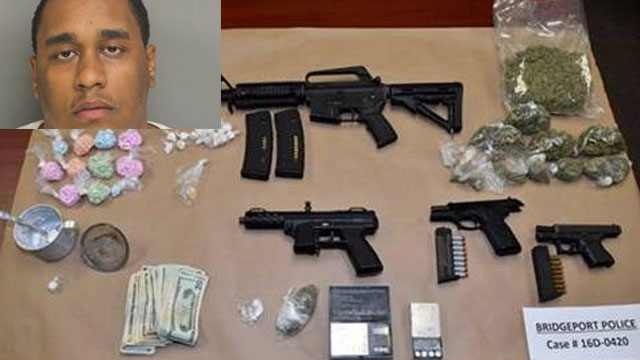 Shannon Calhoun was arrested after the following items were seized by police. (Bridgeport Police Department)
BRIDGEPORT, CT (WFSB) -
A Bridgeport man was arrested after police said he was in possession of large quantities of illicit drugs and illegal firearms.
Police charged 24-year-old Shannon Calhoun after reports of shots fired in 3000 Main Street on Wednesday evening.
A woman told police that Calhoun "attempted to assault her and broke the window to her car." When officers arrived at Calhoun's home, police said they located a trail of blood leading from his vehicle into his house.
Police said they realized that the blood was a cut on Calhoun's hand.
While searching the Calhoun's home, officers seized four firearms, including an assault rifle and an assault pistol, 70 grams of crack cocaine, 461 grams of marijuana, 966 pills of ecstasy and $1,000.
Calhoun was charged with three counts of first-degree reckless endangerment and first-degree threatening as well as one count of criminal possession of a firearm, carrying a pistol without a permit, violation of a protective order, third-degree criminal mischief and breach of peace.
Calhoun is being held on $1 million bond. He is expected to face additional charges.
Copyright 2016 WFSB (Meredith Corporation). All rights reserved.