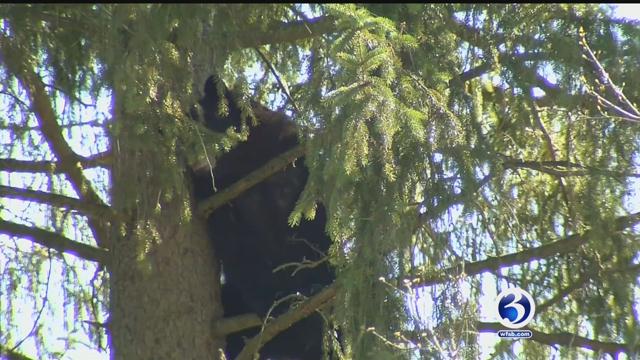 A Black Bear scaled a large tree in West Hartford on Sunday. (WFSB)
HARTFORD, CT (WFSB) -
Crowds formed in West Hartford where a large black bear scaled a tree on Sunday afternoon.
Connecticut's Department of Energy and Environmental Protection officials responded immediately to the Vanderbilt Road around 3:15 p.m.
DEEP officials responded after the bear was spotted walking down the street. Police were called to the area and around that time the bear had gotten into a tree.
DEEP officials used two darts to tranquilize the animal.
Soon thereafter, it plunged through the trees branches into a net set up by DEEP.
"We had our net up it was a difficult situation involving the houses that were in close proximity to each other and sheds that were in the area but the bear came down uninjured," said Sgt. Keith Williams.
The bear was removed from the area to a suitably forested area.
West Hartford police also responded in efforts to keep onlookers from getting too close.
Officials are reminding residents to call for assistance immediately if a bear is spotted. As the weather warms, bears may wander into residential area more often.
Connecticut residents should make sure to wait as long as they can before taking your garbage outside on trash day and take down any bird feeders to minimize risk.
Copyright 2016 WFSB (Meredith Corporation). All rights reserved.