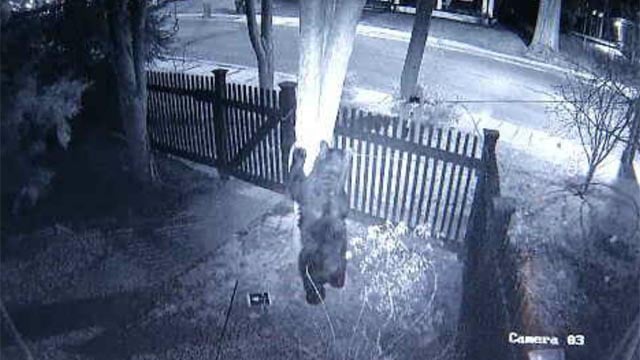 Bear shows up outside home in Hartford (iwitness)
HARTFORD, CT (WFSB) -
A bear made its way to Hartford's West End neighborhood, and it was all caught on surveillance video.
The bear hopped a fence to get into the backyard of a home on Lorraine Street, right off Farmington Avenue.
The bear knocked down bird feeders and even climbed a tree.
The homeowners called 9-1-1, and Hartford police blocked off a portion of the street. The Department of Energy and Environmental Protection was also called but officials said they did not respond because the bear didn't pose any threatening behavior.
After more than three hours, police were able to scare the bear out of the yard and it took off.
A bear scaled a tree outside a home on Vanderbilt Road in West Hartford on Sunday afternoon.
Copyright 2016 WFSB (Meredith Corporation). All rights reserved.