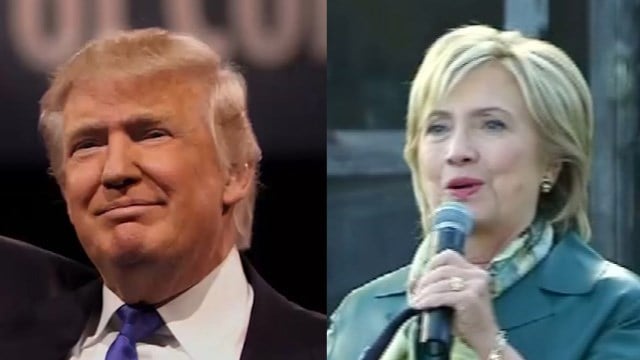 Republican Donald Trump and Democrat Hillary Clinton lead the polls for the presidential nominations, according to recent Quinnipiac poll. (WFSB File)
BRIDGEPORT, CT (WFSB) -
Sources told Eyewitness News that Republican presidential candidate Donald Trump is expected to visit Bridgeport on Saturday while Democratic presidential candidate Hillary Clinton is expected to visit Bridgeport on Sunday.
These visits come ahead of Tuesday's primary.
Clinton was in Hartford on Thursday to talk with victims of gun violence including victims from Sandy Hook school shooting. She was pushing for stiffer gun control measures and keeping the weapons out of the hands of criminals and the mentally ill.
Hillary's daughter, Chelsea Clinton began campaigning for mother on Wednesday. She spoke broadly about why her mother should win the Democratic nomination, but also focused on guns.

"I didn't know I could care more about gun control until I became a mom and gun control is one of those issues that does feel more deeply personal," Chelsea Clinton said on Wednesday. "I couldn't imagine what the Sandy Hook families confront everyday."
Trump is expected to stop in Waterbury on Saturday at Crosby High School at 10 a.m. Doors open at 7 a.m.
The Republican presidential candidate held a campaign event in Hartford last Friday. Thousands of people were in attendance.
Republican presidential candidate John Kasich will be at Glastonbury High School at 5:30 p.m. on Friday. He campaigned at Sacred Heart University in Fairfield earlier this month.
Trump and Clinton lead among likely Connecticut primary voters in the latest edition of the Quinnipiac University Poll.
Times and locations for the weekend events were not released on Thursday.
Stay with Eyewitness News on air and online for updates to this story.
Copyright 2016 WFSB (Meredith Corporation). All rights reserved.