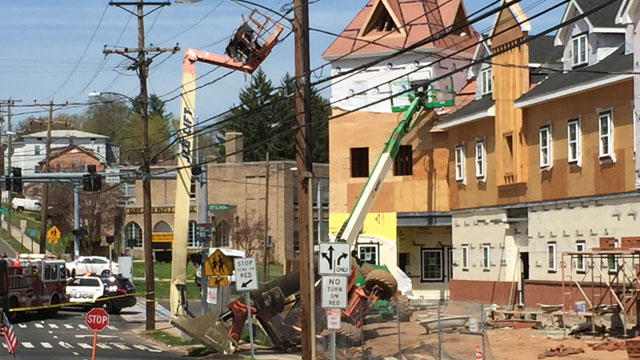 Two carpenters are OK after boom lift accident. (WFSB)
NEW BRITAIN, CT (WFSB) -
A portion of Farmington Avenue in New Britain was closed after a boom lift accident on Thursday afternoon.
Two carpenters in their 20s were in the bucket of a boom lift when it hit some wires on Farmington Avenue around 1:45 p.m. The two men were able to jump onto a nearby roof when the boom lift tipped onto two wheels, before it fell over.
The construction site sits next to the Crystal Ballroom on Farmington Avenue.
Police said wires down were knocked onto Farmington Avenue
Crews from Eversource were called to the scene. More than 2,000 Eversource customers were without power at one point, by 2:15 p.m., there were more than 1,400 outages. To check outages in your area, click here.
Road closure is precautionary in nature, police said.
There were no injuries reported to police.
To check traffic in your area, click here.
Copyright 2016 WFSB (Meredith Corporation). All rights reserved.