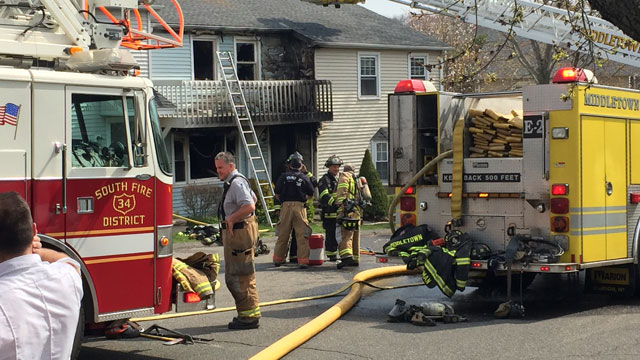 Firefighters battled a fire at a condominium complex on Long Hill Road in Middletown. (WFSB)
MIDDLETOWN, CT (WFSB) -
Three families at a condominium complex in Middletown were displaced after a kitchen fire on Friday morning.
Firefighters were called to a kitchen fire reported at 826 Long Hill Rd. around 10 a.m. Upon arrival, firefighters encountered heavy fire and smoke, according to Middletown Fire Chief Rob Kronenberger.
Kronenberger said one unit sustained "heavy fire damage" while the two neighboring unites sustained smoke damage.
Those three units are expected to be displaced "for some time," Kronenberger said.
Kronenberger said there was at least one woman in the condo at the time of the fire. She was the person that called in the fire, Kronenberger added.
There were no reported injuries to civilians or firefighters.
The cause of the fire is under investigation.
Copyright 2016 WFSB (Meredith Corporation). All rights reserved.