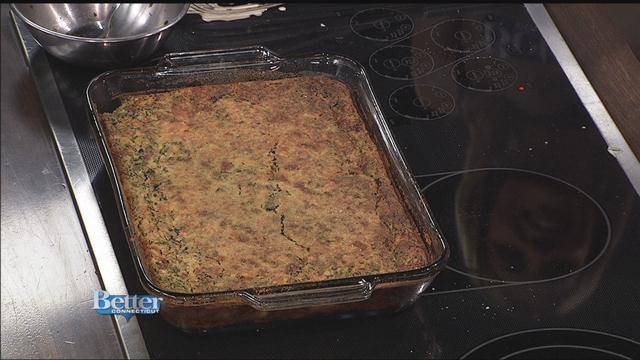 Bob and Danita Sulick from The Mulberry Street are in the kitchen teaching us how to make a Spinach torta, similar to a quiche. To learn more about the Mulb, click here.
Spinach torta
INGREDIENTS
i medium onion diced

2 cloves of garlic minced

1 tablespoon rosemary minced

1/4 long grain rice

2 tablespoons red wine vinegar

3 tablespoons olive oil

4 cups of heavy cream

10 eggs

1 cup mozzarella

1 cup of cheddar cheese

1/2 cup of romano cheese

2 packages frozen chopped spinach thawed.

kosher salt ans pepper

1/4 cup bread crumbs plain

2 tablespoons butter
DIRECTIONS

Saute in small saute pan, onion in olive oil for 3 minutes.
Add garlic, rosemary and rice saute, until golden brown.
Deglaze with red wine vinegar, reduce until completely gone. Set aside.
In a large bowl add eggs and cream and whisk together well.
Add cheeses, onion mixture, spinach. Mix well. Salt and pepper to taste. Actually taste it before you bake.
Probably about 11/2 tsp of salt. 3/4 tsp fresh ground pepper.
In a 8x10 glass baking dish, butter the bottom, and cover with bread crumbs.
Pour in egg mixture.
Bake in a 375 degree oven for about 1 hour.
Should be totally golden brown on top and firm to the touch.