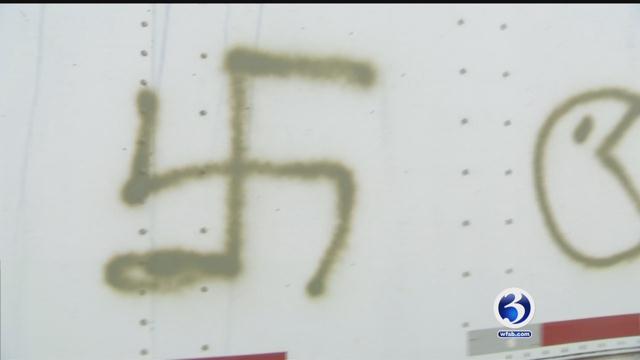 Police are investigating vandalism at Maple Lane Farm in Preston. (WFSB)
PRESTON, CT (WFSB) -
Connecticut State Police said they are investigating vandalism and destruction at several buildings on a farm in Preston.
Much of Maple Lane Farm was left covered in graffiti, including inside the farm owner's office. Vandals spray painted swastikas on buildings along with the words "Anonymous", "Nazis" and "Trump."
Vandals also broke a window in the building.
"It's very disheartening to see. I was out here Tuesday and ran by and saw it," neighbor Chrisann Kane said. "When I got home, I called State Police and made a report."
The farm's owner, Allyn Brown, said he was hit twice; first on Saturday and then on Monday.
Brown said last week he kicked three people off his property, who were trespassing. He added they were fishing on the farm without permission.
Neighbors said they were surprised that this crime would happen in the area, which they describe as peaceful and quiet.
State police urge anyone with information or witnessed unusual activity on the farm to call Troop E at 860-848-6500.
Copyright 2016 WFSB (Meredith Corporation). All rights reserved.