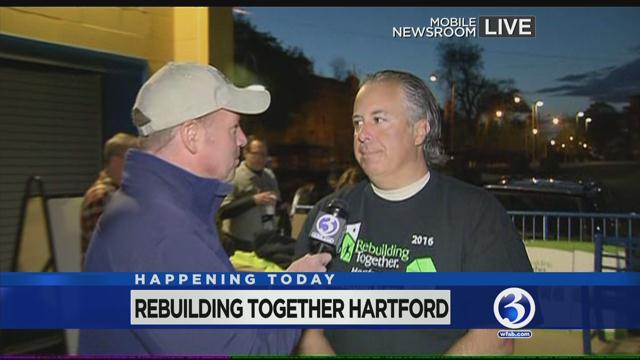 Scot Haney live from Rebuilding Together Hartford. (WFSB photo)
HARTFORD, CT (WFSB) -
Over 500 volunteers will be grabbing their tools and working to help give more than 2 dozen homes some much needed repairs as part of the 22nd Rebuilding Together Hartford event.
Saturday's event being organized by Rebuilding Together Hartford is part of National Rebuilding Day, an annual event held across the country. Their mission is simple, repair and restore houses and non-profit facilities for those who may otherwise not be able to.
Volunteers will gather at the Chrysalis Center on Homestead Avenue for an 8 a.m. kickoff ceremony and then will spread out to work on 26 homes in a 3 block area of the city.
Upgrades will include making the homes safe, accessible and energy efficient.
Rebuilding Together Hartford has been working to improve homes since 1994 and in that time has repaired more than 600 homes and community projects.
For more information on the organization and how you can help out check out their website here.
Copyright 2016 WFSB (Meredith Corporation). All rights reserved.