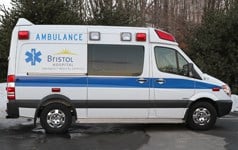 Generic Bristol Hospital ambulance photo. (Bristol Hospital website)
BRISTOL, CT (WFSB) -
A Bristol EMS ambulance has been involved in a crash Saturday morning.
The crash occurred around 11:30 a.m. along Route 72, which is also known as Pine St. at the intersection of Emmett St.
A spokesperson from Bristol Hospital said the ambulance crew was responding to an emergency call with lights and sirens when the crash occurred.
The EMT's inside the ambulance were uninjured and a second ambulance crew responded to the original emergency call in their place.
Another ambulance also responded to the crash scene to transported the driver of the car involved to an area hospital for treatment.
Copyright 2016 WFSB (Meredith Corporation). All rights reserved.