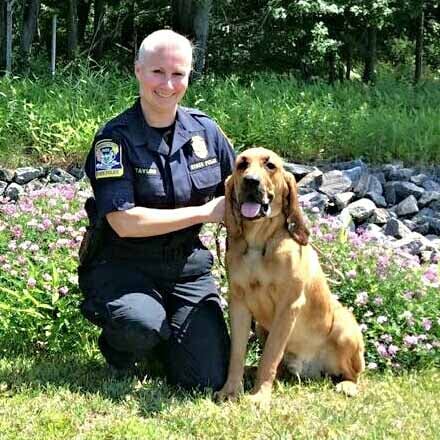 TFC Kerry Halligan and her K9 partner Texas (CT State Police)
WOODBURY, CT (WFSB) -
An 89-year-old woman who went missing on Sunday was found about ¼ of a mile from her home, believed to be suffering from hypothermia.
Police were notified about the missing Woodbury woman at about 5:40 p.m. on Sunday. She had been last seen on Good Hill Road in Woodbury.
A state police K9 team assisted in the search, and the fire department had planned to deploy a boat to check a pond located in the area. Woodbury residents were also notified about the missing woman via an automated phone call.
Just before 8 p.m., police said a state police bloodhound named Texas helped in the search, locating the woman 40 minutes later.
The woman was taken to an area hospital for evaluation.
Police said Connecticut State Police canine teams are "frequently called upon by police agencies to search for missing persons," and the canine unit has been an essential tool for state troopers.
The Connecticut State Police Canine Unit was founded in 1934. Police use German Shepherds, bloodhounds and Labrador retrievers for investigations.
"The State Police relies on this essential unit to serve the people of Connecticut. Canine teams are viable partners in Law Enforcement," police said in a press release.
Copyright 2016 WFSB (Meredith Corporation). All rights reserved.