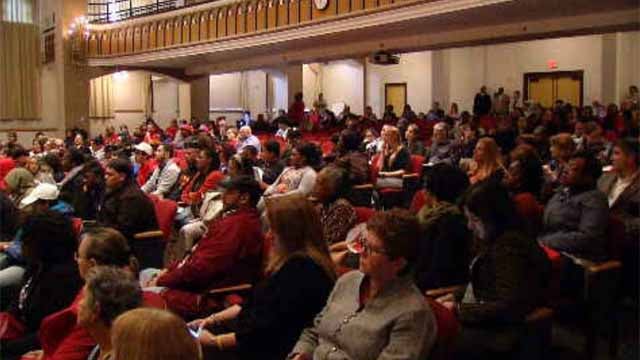 Dozens packed a Hartford school budget meeting on Tuesday night (WFSB)
HARTFORD, CT (WFSB) -
A public hearing in Hartford heated up on Tuesday night as parents and students gathered to sound off on the big budget cuts in the school district.
There is a budget deficit of more than $15 million, and the school superintendent's budget would cut 235 full time jobs from both the central office and schools.
Parents who spoke raised concerns and said they care about the school district and the education it provides to their children.
The meeting Tuesday night was packed, and attendees were angry about the cuts.
"We're talking about a social worker, our math teachers, our guidance counselors, whoever they may be at the bottom there. We can't afford to cut those people," one parent said at the meeting.
The school board will possibly vote on the budget on May 17.
Copyright 2016 WFSB (Meredith Corporation). All rights reserved.