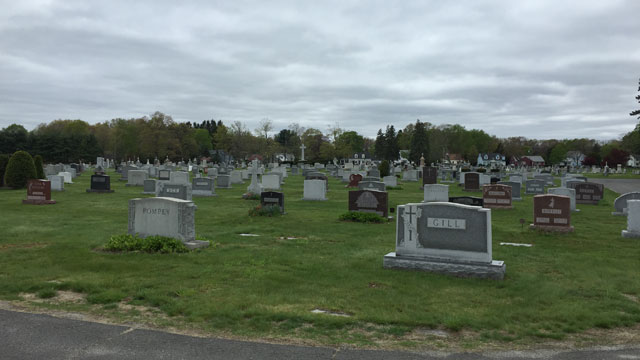 Police are investigating thefts at Saint Thomas Cemetery in Southington. (WFSB)
SOUTHINGTON, CT (WFSB) -
Police are asking for the public's help locating the people responsible for thefts at a cemetery in Southington.
Marble statutes from the headstones have been reported stolen at the Saint Thomas Cemetery, which is located on Meriden Avenue. The thefts took place sometime Wednesday night into Thursday morning.
Nearly everyone who has died in Patricia Hackett's family is buried at Saint Thomas Cemetery, and she visits every day, but she was shocked on Wednesday to learn beautiful angel statues had been ripped off a relative's gravestone.
"I was horrified, but I wasn't surprised because this has been happening for several months up here," Hackett said. "They are taking statues that are permanent parts of the monuments. They are prying them off. You can actually see damage to the stone."
Police said there have been six "additional reported instances of statutes being removed from gravestones" in the Saint Thomas cemetery since January.
The marble figures can be worth money. In fact, Hackett estimates the angel statues are each worth about $5,000.
Officers were added to the area surrounding Saint Thomas cemetery "in an effort to thwart these types of thefts."
Anyone with any information about the thefts is asked call the Southington Police Department at 860-621-0101.
Copyright 2016 WFSB (Meredith Corporation). All rights reserved.