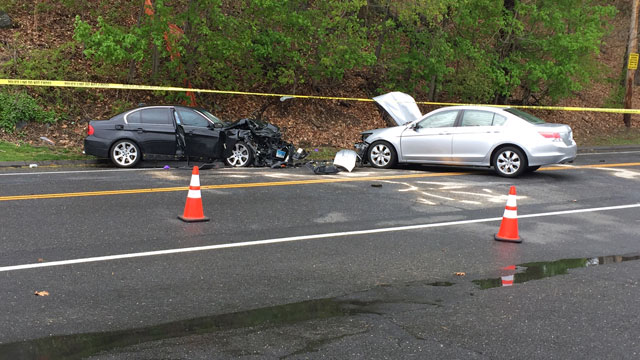 Crash closes Route 110 in Shelton on Friday. (WFSB)
SHELTON, CT (WFSB) -
A 69-year-old woman died after a crash on Route 110 in Shelton on Friday afternoon, police said.
Officers were called to a two-car crash on River Road, which is also known as Route 110, around 12:30 p.m.
Upon arrival, officers found that 23-year-old Samantha Monaco and 69-year-old Rosemarie Dwyer, both of Shelton, were involved in crash.
Dwyer was rushed to Bridgeport Hospital where police said she died upon arrival. Monaco was also rushed to Bridgeport Hospital with "serious, but non-life threatening injuries," police said.
The crash remains under investigation by the Shelton Police Traffic Division Reconstruction Team. Police said "no enforcement action has been taken at this time."
Anyone with any information about the crash is asked to call the Shelton Police Traffic Division at 203-924-1544.
The road was closed between Murphy's Lane and Long Hill Avenue during the investigation. The road reopened around 5 p.m.
Copyright 2016 WFSB (Meredith Corporation). All rights reserved.