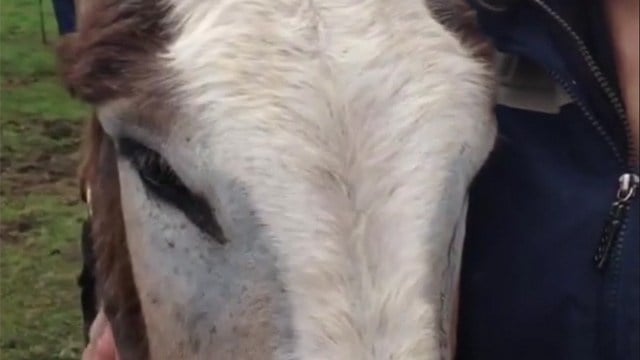 Donkeys are available for adoption in Stafford Springs. (WFSB photo)
STAFFORD SPRINGS, CT (WFSB) -
Cats and dogs aren't the only animals in need of adoption.
Some donkeys from Texas were brought to Stafford Springs in hopes that they could find a good home.
Eyewitness News went to the Foster Hill Farm on Friday to film a Lost & Pound segment.
Liz Bennett of Bandit's Place provided some interesting facts about the animals.
"You normally think of donkeys has being gray with the cross things on their backs," Bennett said. "Legend has it is that the reason donkeys have the cross on their back is because one carried Mary when she was pregnant with Jesus into Bethlehem."
Here's a list of donkey resources for folks interested in adopting:
Peaceful Valley Donkey Rescue - Kim & Karl Milikowski, (860) 729-6310, Stafford Springs
Foster Hill Farm, 21 Stafford St., Stafford Springs
H.O.R.S.E. of CT, 43 Wilbur Rd., Washington, CT, (860) 868-1960
Second Chance Ranch Equine Rescue, (860) 986-3404
CT Draft Horse Rescue, 15 Rock Landing Rd., Haddam Neck, CT, (860) 267-1542
Beech Brook Farm Equine Rescue, 125 Fishtown Rd., Mystic, CT, (860) 705-8456
Phoenix Rising Equine Rescue, North Stonington, CT, (860) 699-0555
Tara Farm Rescue, Coventry, CT, (860) 699-0555
Sorry Ass Rescue, Higganum, CT, (860) 227-3854
Copyright 2016 WFSB (Meredith Corporation). All rights reserved.