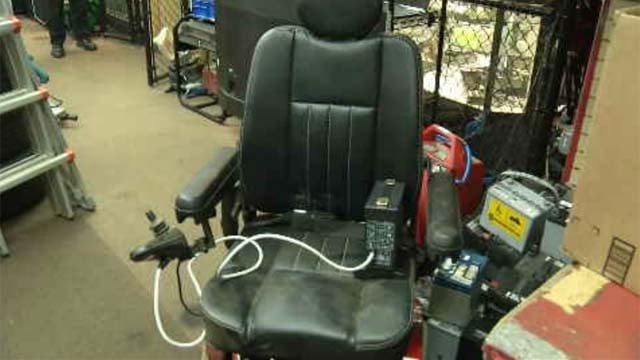 HARTFORD, CT (WFSB) -
Connecticut State Police will be collecting used wheelchairs Saturday morning as part of the 17th Annual "Days of 1000 Wheels" drive run by the Chariots of Hope.
If you have a wheelchair, for an adult or child, sitting in your attic, basement, shed or anywhere else. Dust it off and bring it to your nearest State Police barrack Saturday between 10 a.m. and 2 p.m.
The wheelchairs collected will be refurbished and then distributed to those in need throughout Connecticut and the world.
Last year 55 wheelchairs were collected, however, they hope to more than quadruple that number this year, their goal is to gather 300 wheelchairs in just one day.
Chariots of Hope is a Connecticut-based nonprofit organization that has helped thousands in need get a wheelchair to aid them in getting around.
Wheelchairs can be dropped off a the following locations:
Troop A - 90 Lakeside Rd. Southbury
Troop B - 463 Ashley Falls Rd. North Canaan
Troop C - 1320 Tolland Stage Rd. Tolland
Troop D - 55 Westcott Rd. Danielson
Troop E - I-395 Northbound between exits 79 and 79A, Montville
Troop F - 315 Spencer Plains Rd. Westbrook
Troop G - 149 Prospect St. Bridgeport
Troop H - 100R Washington St. Hartford
Troop I - 631 Amity Rd. Bethany
Troop K - 15A New Hartford Rd. Colchester
Troop L - 452A Bantam Rd. Litchfield
For more information on Chariots of Hope you can visit their website here.
Copyright 2016 WFSB (Meredith Corporation). All rights reserved.