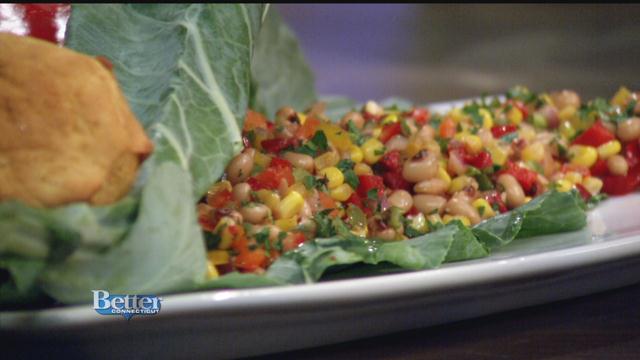 Francine Austin appeared on "The Chew" for her famous Brown Sugar & Bourbon Barbeque Spare Ribs. Today she's making a Black-Eyed Pea and Corn Salad.
Black-Eyed Peas and Corn Salad
Servings: 6-10
Ingredients:
1 15oz can black-eyed peas drained
1 15oz can sweet golden corn drained
1 small red bell pepper chopped fine
1 small orange bell pepper fine
1 small red onion chopped fine
1 jalapeño chopped fine
2 scallions chopped fine
3 tablespoons fresh parsley leaves
1/4 cup olive oil
1/4 cup lemon vinegar
1 tablespoon honey
1 teaspoon salt
1teaspoon fresh ground pepper
Directions
Combine the 1st 8 ingredients in a bowel. In a separate bowel combine olive oil, vinegar, honey, salt, and pepper then whisk. Pour over mixture, toss then refrigerate 1-4 hours or as you please. Serve immediately.