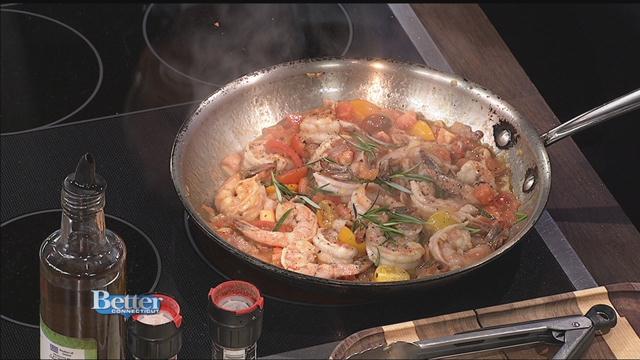 In honor of National Shrimp Day, Flanders Fish Market is showing us how to make a delicious Shrimp Gorgonzola! You can visit them at 22 Chesterfield Rd in East Lyme and click here for more information.
Cappy's Gorgonzola Shrimp
Yields 4-6 servings
Ingredients:

3T olive oil
1/2 C bacon, sliced
4 T minced garlic
2 lbs ocean garden shrimp, size per pound: 26/30
Leaves from 1 sprig of rosemary
1/2 C Sherry
3 Heirloom tomatoes, cored, large diced
2 large handfuls baby spinach
1 C Gorgonzola cheese
Kosher salt and freshly cracked pepper, to taste

Either: toasted garlic bread or blue corn tortillas to serve

Directions:

1. In skillet over medium/high heat, render bacon in olive oil for about two minutes, add garlic and sauté until tender and aromatic.
2. Add the cleaned shrimp and cook until the gray translucency is completely gone, approximately 4/5 minutes.
3. Add rosemary and deglaze the pan with sherry, allow alcohol to cook out for about 2 minutes.
4. Add tomatoes and cook until slightly soft.
5. Fold in Gorgonzola cheese until it is nice and creamy.
6. Add fresh spinach and toss.
7. Season with salt and pepper.