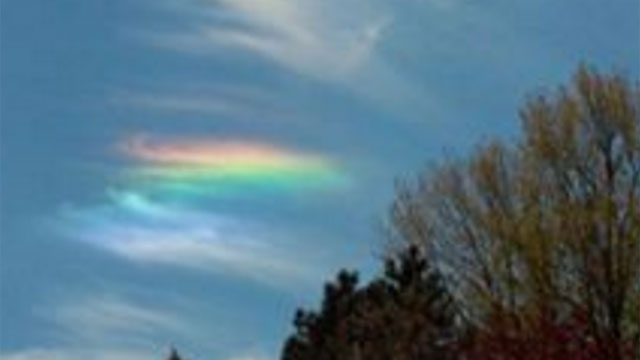 Eyewitnes News viewer Megan Burnett spotted the cloud iridescence in Willimantic on Tuesday. (Megan Burnett)
HARTFORD, CT (WFSB) -
Many residents spotted a "phenomenon" in the skies above Connecticut throughout the day on Tuesday.
If you looked up into the sky on Tuesday, you would have seen a ray of colors among the clouds.
According to WFSB Meteorologist Bruce DePrest, this unusual event was called cloud iridescence. The National Weather Service states that cloud iridescence is "brilliant spots or borders of colors in clouds, usually red and green, caused by diffraction of light by small cloud particles."
NWS said that iridescence is seen in "thin circus" clouds about 30 degrees above the sun. Iridescence is "characterized by bands of color in the cloud that contour the cloud edges," NWS said.
DePrest will discuss the cloud iridescence on Eyewitness News at 6 p.m.
For more on Tuesday's weather, read the technical discussion by clicking here.
Copyright 2016 WFSB (Meredith Corporation). All rights reserved.