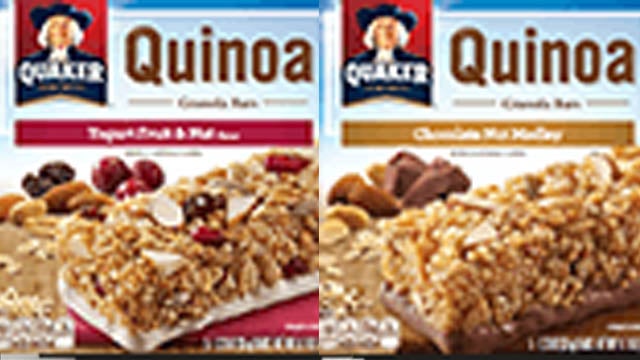 (321cba.com photo)
(WFSB) -
The Quaker Oats Company is recalling some of its granola bars due to health concerns.
The company issued the voluntary recall for its Quaker Quinoa Granola Bars after it said an ingredient supplier was found to have distributed sunflower kernels that may be contaminated with Listeria.
Listeria is a bacteria that can cause serious infections in young children, the frail or the elderly.
Quaker Oats said there have been no reported illnesses to date. It called the recall precautionary.
The company said that while the vast majority of the product was spared from store shelves, a couple of kinds were distributed nationwide.
They include:
6.1 ounce boxes of Quaker Quinoa Granola Bars Chocolate Nut Medley with UPC code 30000 32241 and Best Before Dates of: 10/16/2016, 10/17/2016
6.1 ounce boxes of Quaker Quinoa Granola Bars Yogurt, Fruit & Nut with UPC 30000 32243 and Best Before Dates of: 10/10/2016, 10/11/2016
Quaker Oats said no other products were affected by this recall.
For more information, head to the Food and Drug Administration's website here or Quaker Oats' website here.
Copyright 2016 WFSB (Meredith Corporation). All rights reserved.