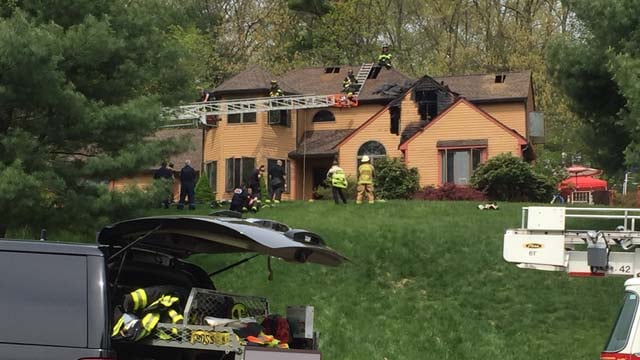 Fire was reported at a home on Woodhenge Drive in Tolland on Tuesday morning. (WFSB photo)
TOLLAND, CT (WFSB) -
Firefighters battled a two-alarm fire at a home in Tolland on Tuesday morning.
A "structure fire" was reported at a home on Woodhenge Drive around 9:30 a.m. Upon arrival, firefighters located a fire on the second floor.
State police said when firefighters arrived on scene, everyone was out of the building. However, two additional ambulances were called to the scene and one person was taken to St. Francis Hospital for medical evaluation.
Neighbors told Eyewitness News that the owner was chasing his dog in her front yard. When the neighbor asked the homeowner what happened, he said "my house is on fire."
The woman looked up and saw her neighbor's home in flames. She also noticed that he had soot on his face.
The neighbor is taking care of the family dog during the investigation.
Willington, Willington Hill and University of Connecticut fire departments assisted Tolland firefighters.
Crews were "ventilating" the fire as of 10 a.m. and firefighters remained on scene as of noon.
The cause of the fire is under investigation.
Stay with Eyewitness News on air and online for updates.
Copyright 2016 WFSB (Meredith Corporation). All rights reserved.