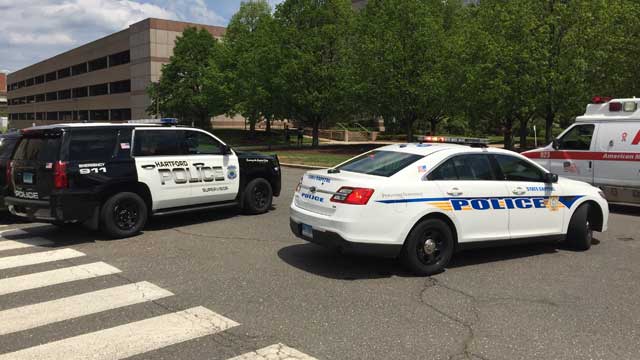 The Legislative Office Building in Hartford was evacuated because of the smoke condition. (WFSB)
HARTFORD, CT (WFSB) -
The Legislative Office Building in Hartford will remain closed on Tuesday after an electrical fire caused a "lingering smell," police said.
Around 11:30 a.m., a power surge caused an electrical fire on the second floor of the Legislative Office Building, according to State Capitol Police Department Public Information Officer Scott Driscoll. A fire alarm went off and the smoke condition caused everyone to evacuate the Legislative Office Building.
State Capitol Police Chief Walter Lee Jr. was able to extinguish the fire by himself. He was checked out, but medically cleared by firefighters, Driscoll said.
There were no reported injuries.
Capitol police, fire marshal and Hartford Fire Department were called to the scene.
By 2 p.m., state fire marshal cleared the scene and "deemed the building suitable for re-entry." However, Driscoll said even though the building was deemed safe, "due to lingering smell the LOB will remained closed for the duration of today."
The cause of the power surge remains under investigation by Eversource.
The Capitol building was not affected by the fire or smell and will remain open on Tuesday. The Legislative Office Building, is expected to reopen on Wednesday.
Copyright 2016 WFSB (Meredith Corporation). All rights reserved.