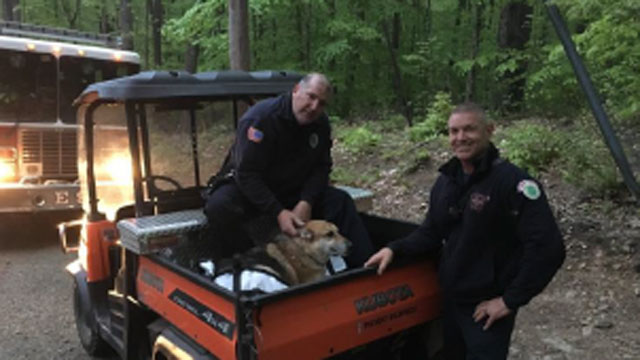 Hamden firefighter Kurt Vogt, Maria and firefighter Chip Talmadge pose for photo after rescue. (Hamden Fire Department)
HAMDEN, CT (WFSB) -
Some Hamden firefighters are being hailed as heroes after they rescued a dog that collapsed at a state park in Hamden on Wednesday evening.
Firefighters received an emergency call about an animal rescue at Sleeping Giant State Park around 7:30 p.m.
The Connecticut Department of Energy and Environmental Protection assisted in the rescue of 7-year-old Maria who had collapsed while hiking with her owner. The man called dispatch because he was "was unable to remove the dog from the trail without help."
The exhausted German Shepard-mix was about 1/3 mile down the Yellow Trail. The firefighters used a portable stretcher to carry Maria by hand out of the woods. DEEP then took her by ATV out of Sleeping Giant State Park.
There were no reported injuries.
Wednesday night's rescue was the 10th of the year by the Hamden Fire Department.
Copyright 2016 WFSB (Meredith Corporation). All rights reserved.