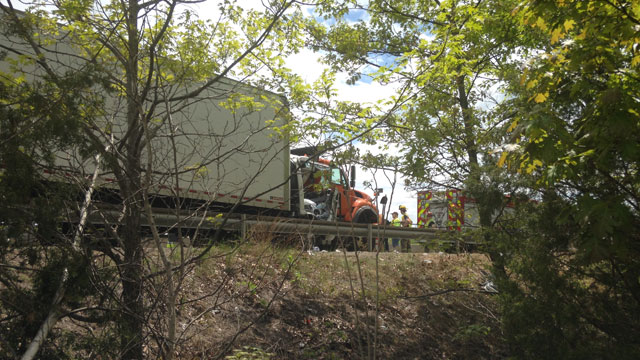 A box truck collided into a Department of Transportation truck on Route 8 in Seymour. (WFSB)
SEYMOUR, CT (WFSB) -
One person has died after state police said a vehicle collided with a Department of Transportation truck on Route 8 in Seymour on Thursday afternoon.
The crash was reported on the southbound side of Route 8 near exit 21 around 12:10 p.m.
Spokesman Kevin Nursick said the DOT truck was involved in a pothole patching operation when crash occurred.
The driver of the DOT truck was shaken up, but did not report any major injuries, Nursick said.
The driver of the other vehicle involved was extricated from his vehicle.
On Thursday night, police said the driver, identified as 61-year-old Daniel Cormier, had died.
Nursick said the DOT truck was a crash attenuator truck, which is a dump truck carrying barrels or collapsible items that are intended to absorb impact and protect workers and the public during a crash.
For real-time traffic updates, check out the WFSB traffic map here.
Copyright 2016 WFSB (Meredith Corporation). All rights reserved.