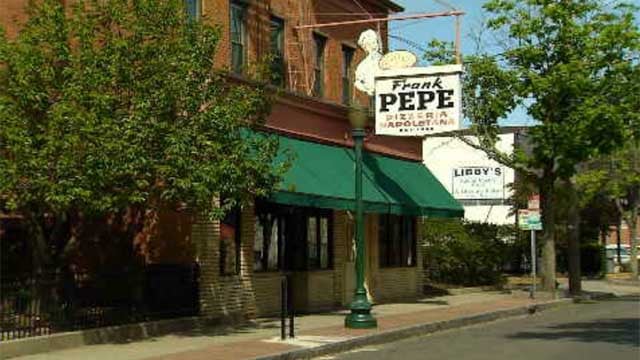 For the last two years, Pepe's Pizza in New Haven has been voted the best in the country, thanks to Frank Pepe's secret recipe. (WFSB)
NEW HAVEN, CT (WFSB) -
There is an international pizza war over who has the best pizza.
For the last two years, Pepe's Pizza in New Haven has been voted the best in the country, thanks to Frank Pepe's secret recipe.
But now Franco Pepe says his pizza shop named Pepe in Grani, in Italy, is the best in the world.
"It's really cool that he has the best pizza in Italy and possibly that region and we have the best pizza in America," said Gary Bimonte, co-owner of Pepe's Pizza.
Franco Pepe says he's related to the original owner Frank Pepe, but Frank's grandchildren aren't so sure.
"Because Pepe isn't a very common name in Italy and this gentleman did come from the same area as my grandfather did...who's to say," Bimonte said.
So while it's unclear if they're related, it's also unclear who has the better pizza, as both Pepe's think they do.
"It's crispy. It's flavorful. You can sit here and watch it be made. It's really fresh. It's great," said Sarah Enni of New Haven.
Copyright 2016 WFSB (Meredith Corporation). All rights reserved.