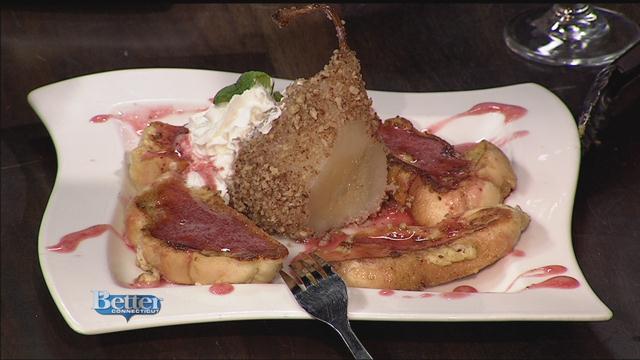 This one is just fabulous! It's the Corner Brunch's Pecan crusted poached pear soaked in grand mariner with French toast and fresh strawberry syrup! Click here for more.
Pecan Crusted Poached Pear Soaked In Grand Mariner Served With French Toast And A Fresh Strawberry Syrup
Ingredients:
4 Bosc Pears
4 Cups Orange Juice
1 Cup Grand Mariner
3 Cups Crushed Pecans
2 Cups Pure Maple Syrup
Bring 3 quarts of water to a boil in a medium saucepan. Peel the skin off the pears and add them to the water. Simmer the pears for 20 minutes.
In a separate bowl mix the oj and Grand Mariner.
Pull the Pears out of the water. Using a table fork, Poke each side of the pears with the fork to allow them to marinate in the Grand Mariner Mixture. Add the pears to the Mixture. Let them soak for c15 minutes.
Roll each pear 1st in the syrup and then in the pecans.
Serve with French Toast and the syrup of your choice!