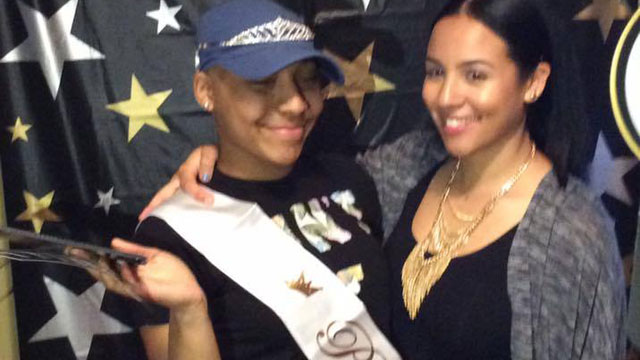 Leeanna poses for pictures at the prom her friends brought to her. (Courtesy Consolidated School District of New Britain Facebook page)
NEW BRITAIN, CT (WFSB) -
Four New Britain teens were able to bring their friend a much needed surprise Friday night, a night when the group of them would have been attending their junior prom.
Leeanna Toro, a junior at New Britain High School, was recently diagnosed with Stage 3 Non-Hodgkin's Lymphoma, which has sent her in and out of the hospital for the past several weeks.
Toro was just released from Connecticut Children's Medical Center on Wednesday, but was still not well enough to attend her prom Friday night.
So her classmates, Shauna Dukes, Jamra Irrizarry, Chastity Sanchez and Nick Ortiz figured they would bring the prom to her.
With the help of their parents, the teens cooked food and decorated Toro's house in a Hollywood theme.
By the looks of it, the surprise was just what the doctor order as Toro is seen smiling in photos with all four of her friends.
Copyright 2016 WFSB (Meredith Corporation). All rights reserved.