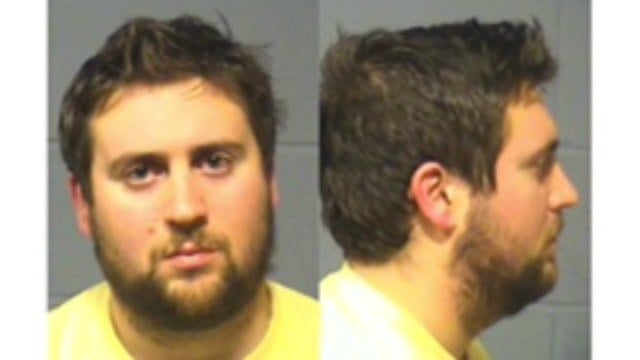 Austin Kelly is an employee of Centerplan, was arrested after police after he and others broke into Dunkin Donuts Park. (Hartford Police Department)
HARTFORD, CT (WFSB) -
Hartford Police confirmed multiple people were arrested Saturday night after they broke into Dunkin Donuts Park.
They said the four men were caught by a security guard playing baseball on the Yard Goat's field around 8:30 p.m..
Michael Cowee, 24, of Hartford, Theodore Swanson, 26, of Glastonbury, Brandon Herrick, 29, of Old Saybrook and Austin Kelly, 25, of Portland were charged with trespassing in the third degree.
According to police, Austin Kelly is an employee of Centerplan, which developed the stadium and the others arrested are his friends.
Police said the individuals were aware they did not have permission to be on the field.
Centerplan said they were still gathering information on the incident and did not want to comment further.
Copyright 2016 WFSB (Meredith Corporation). All rights reserved.