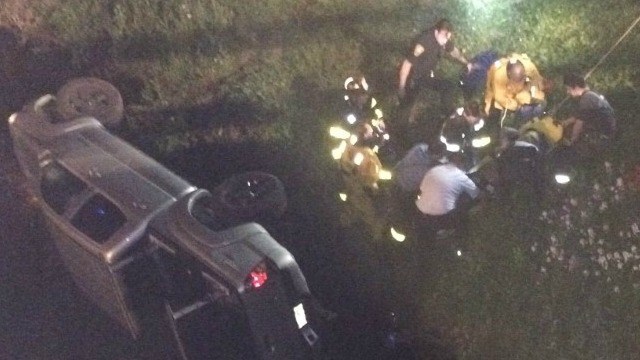 (Norwalk police photo)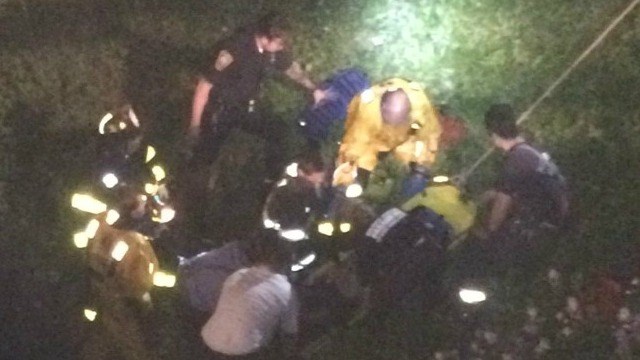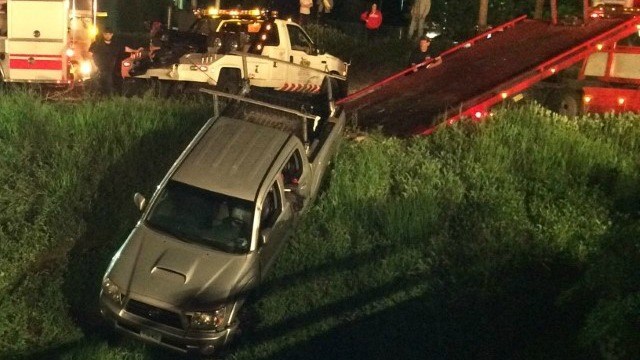 NORWALK, CT (WFSB) -
Firefighters rushed to save a man who was on top of a pick-up truck that slid down an embankment of the Norwalk River.
Crews arrived just after 10 p.m. on Sunday after a Toyota Tacoma slid down 70 feet from a gravel road, off Perry Avenue, alongside the Metro-North Danbury Rail Line. The truck ended up on its side at the water's edge on the driver's side.
Firefighters told Eyewitness News that a man was at the top of the embankment with minor injuries. The second person in the truck was lying on top of the passenger side of the truck.
Firefighters and a police officer wore water suits to stay warm during the rescue. First responders used a rope system and rescue basket to bring the victim up the hill and to safety.
Investigators said the man collapsed from his injuries he suffered from the crash once he made it to shore.
One passenger train passed by the scene at a reduced speed, and the trains were halted for 15 minutes while a wrecker worked to bring the truck up the hill.
Thirteen firefighters played a role in the rescue, according to the fire department.
Metro-North crews also responded due to the railroad tracks possibly being involved.
Norwalk police are investigating the cause the crash.
Copyright 2016 WFSB (Meredith Corporation). All rights reserved.